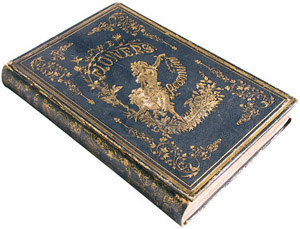 THE
FLOWERS PERSONIFIED;
Being a Translation of Grandville's
"LES FLEURS ANIMÉES."
By N. Cleaveland, Esq.
Illustrated with Steel Engravings,
Beautifully Colored.
NEW YORK;
Published by R. Martin, 170 Broadway
1847.
JJ Grandville - the illustrator:
JJ Grandville (Jean Igance Julien Gerard 1803-1847) also illustrated Lafontaine's Fables (1838), Swift's Voyages de Gulliver (1838), Defoe's Aventures de Robinson Crusoe (1840) and Chevalier's Don Quichotte de la manche (1848). His most celebrated works are probably Scenes de la vie privee et publique des animaux (1842) and Petites miseres de la vie humaine (1843). He is famous for depicting human beings as animals. The publication of Un autre monde (1844) bewildered and alienated part of his large public. He is said to have been an influence on Dore, Hugo, Kafka, Tenniel (Alice in Wonderland), and Walt Disney.
About the physical book(s):
I discovered this book on e-bay. I won the auction and became fascinated with the book. As I started working with it, I discovered that it is not only incorrectly paginated but is missing significant sections of text and 16 of the plates. They had not been torn out, they were never bound in. This was after I had already typed well over half of it. So, I started looking for a complete copy. Alas, the second copy I found was Vol. 1 only (1847) and not noted as such. The third copy (1849) was complete. My fourth copy is in French in two volumes (no date). The variations in the size of the books, in the bindings, and the subtle differences in the plates got me started collecting books on books. Now I need more bookcases.
The Flowers Personified is a strange and delightful book. The original work was Les Fleurs Animees, illustrated by JJ Grandville and written in French with an introduction by Alphonse Karr (1808 - 1890 "Plus ça change, plus c'est la même chose." The more things change, the more they stay the same.), text by Taxile Delord. First published in Paris in 1847, it was translated by N. Cleveland and published in the U.S. also in 1847 as The Flowers Personified. There are several editions of the work. It was also released in Germany as Die Seele der Blumen.

I have the 1847 and 1849 English editions, but only one of three books is complete. There are two 1847 French editions, and 1857, 1866, 1867 and 1875 editions. There are two Belgian editions, 1851 and 1852 and two German editions, 1851 and 1857. I have never seen a German version available.

It was originally published in French in 83 issues in paper covers. The book was first published in two volumes. The 1849 English edition consolidated the two volumes into one and includes Le Cte Foelix's Modern Botany for Ladies and Ladies' Horticulture in separate sections.

There are 52 steel engraved, hand colored plates by JJ Grandville, although I've read that only 15 designs were entirely by him. The plates make the book special, but the story is necessary for a full understanding of the illustrations.

The flowers speaking to the Flower Fairy:

"The flowers here present beg you to accept their homage, and to lend a favorable ear to their humble complaint. For thousands of years we have supplied mankind with their themes of comparison; we alone have given them all their metaphors; indeed, without us poetry could not exist. Men lend to us their virtues and their vices; their good and their bad qualities; -- and it is time that we should have some experience of what these are. We are tired of the flower-life. We wish for permission to assume the human form, and to judge, for ourselves, whether that which they say above, of our character, is agreeable to truth."

The history of these flowers, which were changed to women, you will read in this volume. We have collected these adventures wherever we could find them, -- traversing all lands, and questioning all classes of people, -- but keeping no record of dates or epochs. The flowers have lived, to a certain extent, everywhere. You may have been acquainted with some of them, and not suspected it. It is very unfortunate that they have not thought fit to make more disclosures, or to write their own memoirs. This would have relieved us from much trouble – would have saved us many steps, and more than all, many mistakes.

In concluding the introduction, we must inform you that the fairy did not grant the desired permission, without silently resolving that she would be revenged. The next morning her garden was a desert. One flower alone remained – the solitary Heath-plant, which blooms perpetually.