Hunger is a lethal weapon. We have the capacity and the capability to eliminate hunger through the distribution of food, seeds and knowledge. The variety of programs and projects past and present is impressive.

Share your memories of or read about the tremendous success of the War Garden and Victory Garden campaigns during World Wars I & II. (The War Garden Victorious - 1919.) and the new International Victory Garden Movement. Learn about A Garden in Every School program, community gardens and community supported agriculture (CSAs).

Hunger can and must be stopped.

HISTORICAL:
War Gardens (World War I) - 1917
The United States government strongly encouraged everyone to plant a garden to provide their own food so that food, transportation and other resources could be freed up for the war effort. The National War Garden Commission was formed to provide "systematic education of the people" to develop "latent resources of food supply."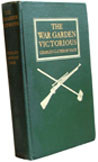 "The sole aim of the National War Garden Commission was to arouse the patriots of America to the importance of putting all idle land to work, to teach them how to do it, and to educate them to conserve by canning and drying all food they could not use while fresh. The idea of the "city farmer" came into being." The War Garden Victorious by Charles Lathrop Pack - 1919
Victory Gardens (World War II)
The Victory Gardens of World War II continued the amazing success of the War Gardens of World War I. Not all of the books and pamphlets about the Victory Gardens have passed into the public domain and must be researched individually for copyright. In addition to the information published by the government, many companies published how-to booklets for their employees and community. I will add these items as copyright permissions allow.
Plant a Row for the Hungry (PAR)
The Garden Writers Association of America (GWAA) and Home & Garden Television (HGTV) sponsor Plant a Row for the Hungry, a communications campaign encouraging garden communities to donate fresh vegetables, fruit, herbs and flowers to food banks and/or soup kitchens in need.

Garden Mosaics Project
CSREES Sustainable Agricultural Research and Education (SARE)-
USDA (United States Department of Agriculture's Home Gardening page
Extension Horticulture Information
Home and Garden Information Center
Hort Center
Home Gardening Resources
Home Gardening Tips
National Agricultural Library's Gardening Resources
National Arboretum Gardening Tips
Organic Vegetable Gardens
Plant Hardiness Zones
USDA Vegetable Laboratory
The renewed enthusiasm for Victory Gardens is getting an even bigger boost with the announcement (March 2009) of a planned Victory Garden on the south White House lawn. There is now an incredible amount of information available on the internet about gardening and sustainability. Here are just a very few links to some sites that have been around for several years.
WORLD SEED FUND
World Seed Fund
"World Seed Fund distributes open-pollinated seeds to individuals, community groups, and organizations that need them most and who cannot afford to purchase them. In addition to seeds, we include educational information. These resources help many grow their own food and save their own seed."
a garden in every school
The National Gardening Association (NGA)
Gardening with Kids (NGA)
see also Gardening with Kids for books
&nbspA Garden In Every School program. This program seems to me to be one of the best ideas to ever be rediscovered. (I have a book copyrighted in 1913 titled School and Home Gardens by W.H.D. Meier. School gardens also played a large part in the incredible success of the War and Victory Gardens.)
When gardening is fully integrated into the curriculum children can learn science, math, communication, economics, social studies, geography and home economics in addition to learning responsibility and cooperation. When the food is used in their cafeteria, kids can learn about nutrition and just how good "real" food" can be. A garden in every school would go a long way towards feeding a man for a lifetime.
Searching for "a garden in every school" on any search engine will point you to many other resources.
RED, WHITE AND BLUE PATRIOTIC GARDEN
Plant a patriot vegetable garden and give the food to your local food bank.
red, white and blue potatoes
red, white and blue corn
strawberries, blueberries and white peaches
red tomatoes, white corn, blue squash
red beans, white onions, blue corn
watermelon, white grapes, borage


COMMUNITY GARDENS
How to get started and links to community garden programs by state - information from the American Community Gardening Association
URBAN AGRICULTURE
City Farmer "promotes urban food production and environmental conservation" and has a wealth of information and links. Their goal reminds me a lot of the the war and victory gardens.
COMMUNITY SUPPORTED AGRICULTURE (CSA)
Community Supported Agriculture is a mutually supportive partnership where you purchase a share of the harvest from a local food grower who provides you with fresh farm produce throughout the growing season. Shares are bought in advance of the growing season to provide the funds to grow the food.
Find a CSA near you at the&nbspRobyn Van En Center for CSA Resources
SEED SAVERS EXCHANGE
Help preserve our biodiversity. Exchange seeds with others.
"Seed Savers Exchange (SSE) is a nonprofit tax-exempt organization that is saving "heirloom" (handed-down) garden seeds from extinction. SSE's 8,000 members grow and distribute heirloom varieties of vegetables, fruits, grains, SSE's main focus is on heirloom varieties that gardeners and farmers brought to North America when their families immigrated, and traditional varieties grown by Native Americans, Mennonites and Amish. Since SSE was founded in 1975, our members have distributed an estimated 750,000 samples of endangered seeds not available through catalogs and often on the verge of extinction. SSE has always been the leader of the heirloom seed movement, and the diligent efforts of our members are making rare heirloom varieties available to gardeners everywhere."